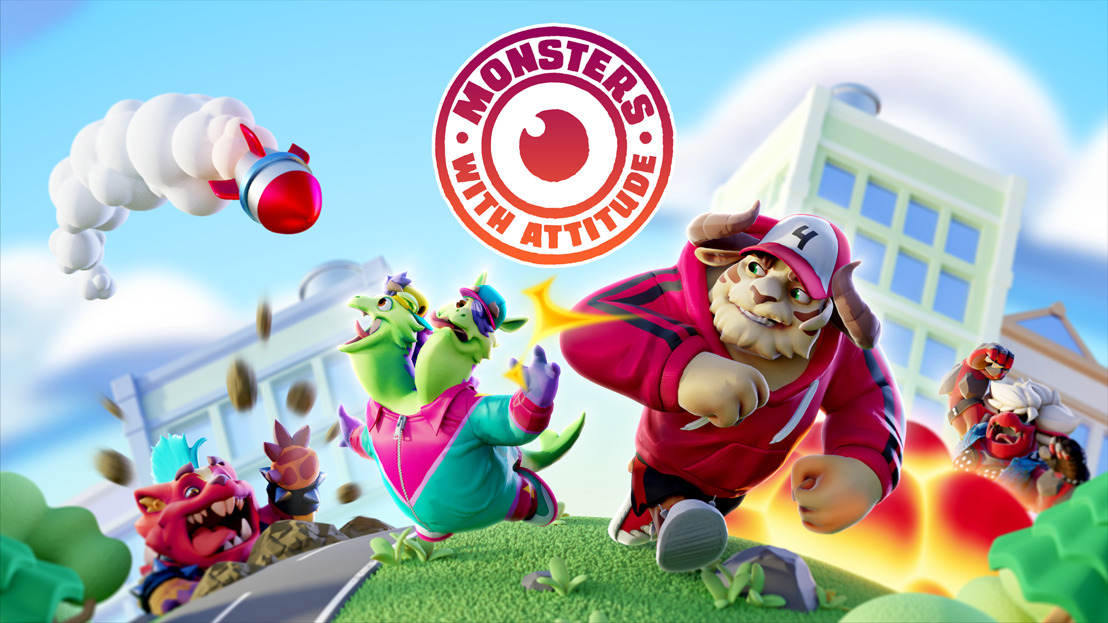 Earthlings beware: Monsters with Attitude are here to smash stuff up, on the App Store and Google Play
Eight-player PvP game from Keen Flare and Flaregames begins interplanetary trail of destruction today
Thursday, March 21, 2019 — A gang of larger-than-life Monsters are on an intergalactic roadtrip, and today they touch down on Earth with the global release of Monsters with Attitude on the App Store and Google Play! Swaggering around our planet with an attitude inspired by the best of late-20th-century pop culture, they already feel right at home.
Harnessing each of the Monsters' unique abilities will be the challenge for players, as they stomp around planets in eight-player real-time PvP bouts. You can use many tactics to achieve victory, utilising the skill-set of each Monster as well as power-ups picked up mid-battle, but ultimately only the biggest can win. Fuelling this growth is Energy, which is generated by bashing smaller opponents or destroying the environment!
If you can see it, you can destroy it. Smash buildings, raze cities to the ground and bash smaller Monsters to take the crown as the biggest, in an evolution of the IO genre – a style of minimalistic multiplayer games popularised by Agar.io and Slither.io – with the production values and depth dialled up. Developed by Keen Flare, the team behind App Store Editors' Choice titles Royal Revolt 2 and Olympus Rising, it exudes the studio's customary visual quality and personality as they put their stamp on a new genre in the spirit of classic multiplayer titles.
With a sizeable community already assembled thanks to pre-order and pre-registration campaigns across the App Store and Google Play, players have been clamouring to wield the power of Monsters – including the heavy hitting of Donnie D., the powerful magnetism of Mad Mags, and the quick splitting of Pete & André.
Monsters with Attitude is proudly published by Flaregames, with Keen Flare continuing its long relationship with the publisher.
About Keen Flare:
The Frankfurt-based dream team behind Royal Revolt 2, Olympus Rising (both App Store Editors' Choice) and Monsters with Attitude. Keen Flare combines amazing, console-grade production values with best-in-class mobile live-ops – to which players of Royal Revolt 2, which recently celebrated its fifth birthday, can attest.